M-ST01 hot selling fire lift safety rescue tripod
Features:
The safety rescue tripod is mainly used for rescue operations in high altitude, cliff and confined space, such as underground pipe, shaft, cesspit, closed container etc. Widely used by firefighting, municipal administration mining etc rescue insitution.
Products Presentation:
safety rescue tripod
is uaually used for narrow space, easy to use, durable and lightweight. Steel casting head durable,
high-strength aluminum alloy feet and legs.
Easy to carry and store, with a rubber-soled foot reinforced friction
force so as to provide better stability on the ground, the anchor strength more than 10Kn is equipped with moving
side plate pulleys, steel hook-and-loop with a 20-meter winch used to drop.
Products with equipment package is
convenient to carry.
Products Features:
- It consists of main parts, sling, capstan, and protection chains.
- Be made of durable super light aluminum alloy, adjustable legs, safety factor more than 10.
- Automatic lock capstan for rising and falling, to protect sling work.
- The cable of sling is made of stainless steel, good tenacity and rust proof.
- Convenient combination is suitable to fix at the well and pit mouth. Out of the limit of the ground unevenness.
Specifications:
Max. Opening Distance of Blades > 28mm
Rated Working pressure :63Mpa
High quality and using long time
1.Relative data:
Technical Specification

Rescue




Tripod

Model

M-ST01

Material

High strength Aluminum

Operating Load

300Kg

Breaking Force

22KN(Steel wire Rope)

Working Scope

134-214cm

Closed Height

134cm

Extend Height

214cm

Dimension for reference

177*25*27cm

Weight

16.5Kg-19.5Kg

Winch

Length of Wire

25m-30m

Operating Load

200Kg

Breaking Force

1800KN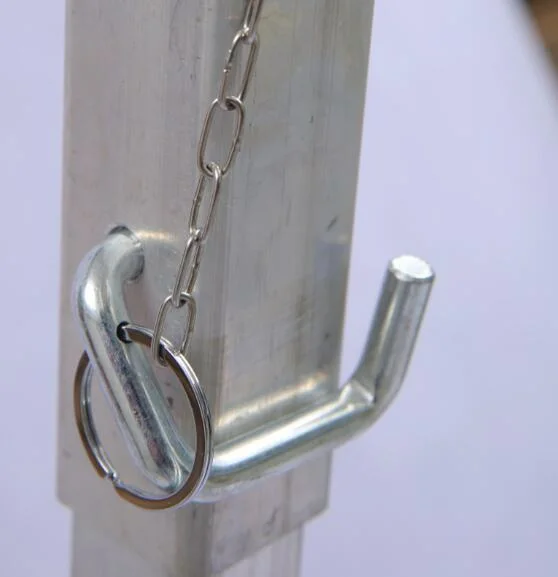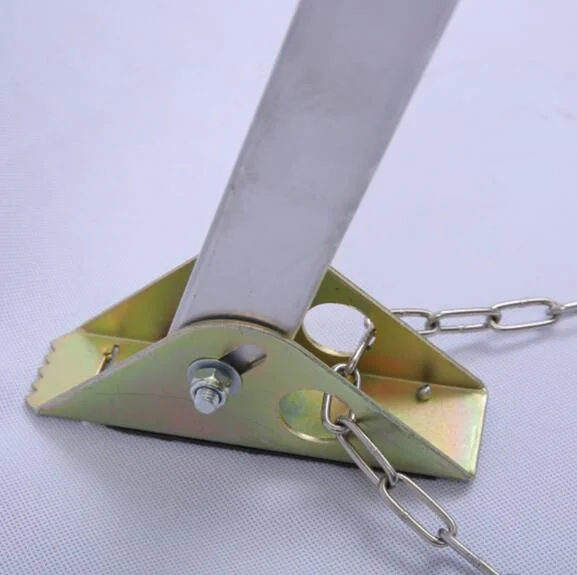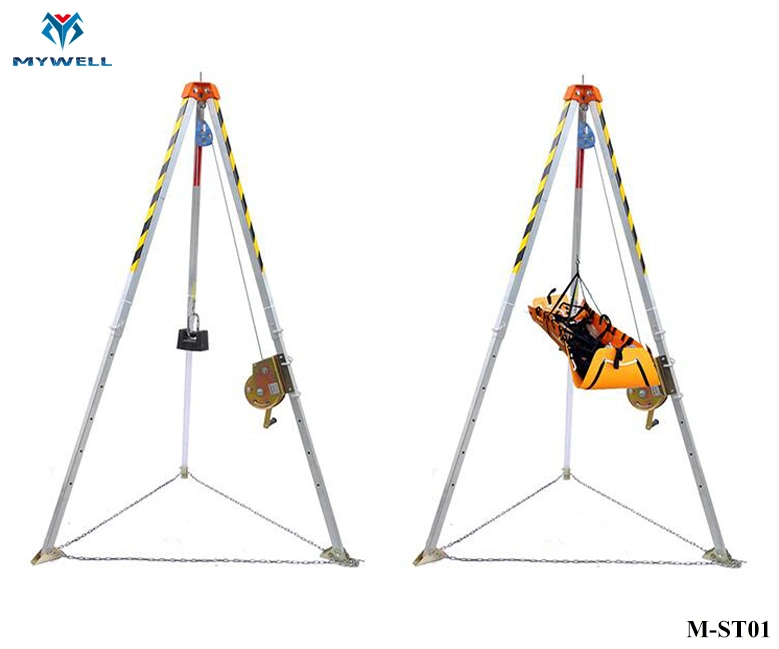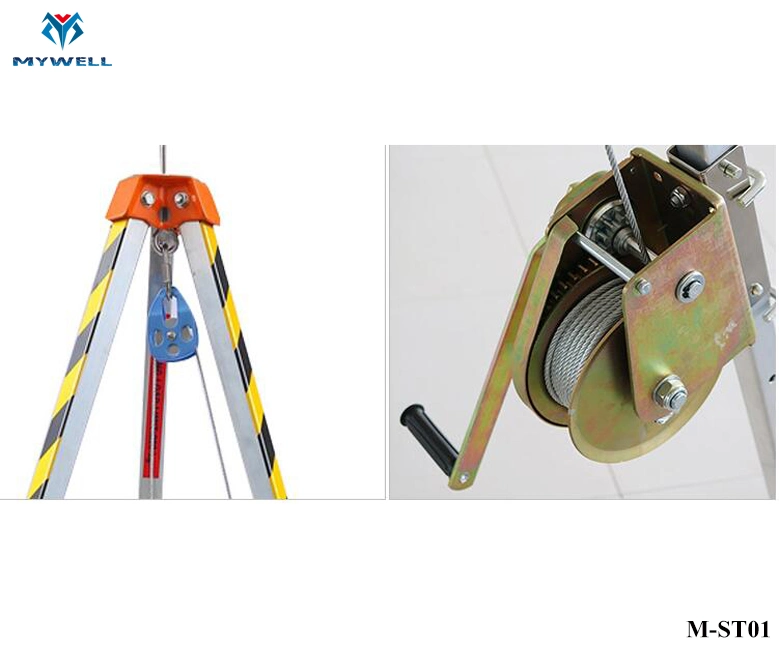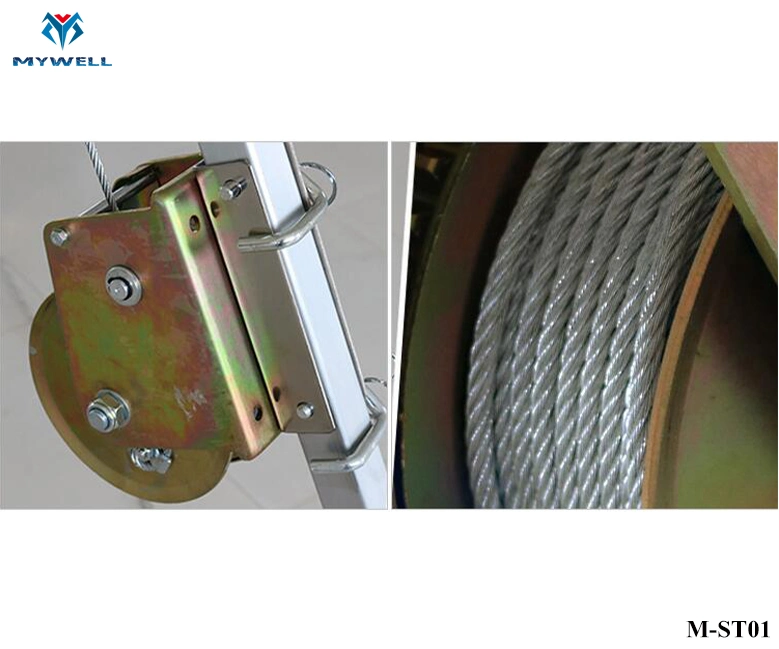 Why choose us
1) High quality with Low Price
2) Delivery in time
3) Commitment to our customers
4) Friendly staff
5) Easy to order
6) Many years production and sales experience
About us:
Jiangyin Mywell Safety Equipment co, ltd has exported medical devices, safety equipment and relevant products for several years to customers all over the world. Our comprehensive line of safe and cost effective medical products is supplied directly from internationally known emergency equipment manufactures in China. Mywell offers domestic and overseas customers the best purchasing solutions for quick and safe patient transport, transfer and treatment.
Main Products:
Signature product: Electric stair climbing chair.
1. Stretchers: Ambulance stretchers, Folding stretchers, Scoop stretchers, Basket stretchers, Spine boards, Stair stretcher, Roll stretchers, Animal stretchers.
2. First aid: Emergency blankets, Head immobilizer, Hare traction splint, CPR board, Cervical collar, KED, CPR masks, Aluminum mouldable splint, First aid kit.
3. Fire fighting safety products: Rescue tripod, Fire Safety Waist Belt, Air Breathing Apparatus, Fire Rescue Rope, Fire Helmet, Fire Clothing, Fireman Boots, Gas Mask.
4.Lifesaving: Life Jacket, Life ring buoy, Rescue pool hooks, Rescue can, Rescue tube.
Our Customers:
1. Rescue Devices/Firefighting Agents & Distributors
We are a specialist supplier of rescue devices for emergency rescues and pre-hospital care, We offer one of the world's most extensive lines of medical safety products. We also supply OEM services to meet more customer requirements.
2. End Users
Our Medical Rescue Devices can be purchased in small orders. During the early stages of working with our clients, we will offer related samples. Our end users include hospitals, first aid agencies, national EMS agencies, fire and rescue organizations, nursing homes and other medical facilities.
3. Our Goals
By integrating the resources of dozens of medical equipment manufacturers in China, we aim to become your trusted supplier with the widest product scope and the fastest delivery cycle.
7) All products 100% tested
1.Are you a manufacturer?
Yes, we are. We have over 6 years experience in designing and manufacturing First Aid Devices.
2. What sets your products apart?
Compared with our competitors: first, we offer higer quality products at an affordable price; second, we have a large client base.
3. How about the minimum order quantity(MOQ) and minimum order amount(MOA)?
For the First Aid Kits and empty box or bag , The MOQ is 500 Sets. For other medical items, the MOA is USD 2000 per order.
4.Where is your main market?
America,East European,Africa,Asia ,India,Philippines,Britain,Australia,Canada,Bangladesh and so on.
5.Do you support OEM service?
Yes, your designs and logos are welcome.
6.How long is your delivery time?
Generally speaking, we can deliver the goods within 3 days if the goods are in stock, otherwise it is about 10-15 days. It depends on the quantity and order time.
7.Do you provide samples first?
Yes, We can provide small amount of sample and do not pay the cost of freight,but the freight will be refund once order confirmed. If you want big amount of sample, please pay them first and we will refund you when you place the order to us.
8.Can I change the contents in the bags/boxes?
Yes, you can.The contents are optional.