Hand Controlled TXK 1 Ton 3M Manual Chain Block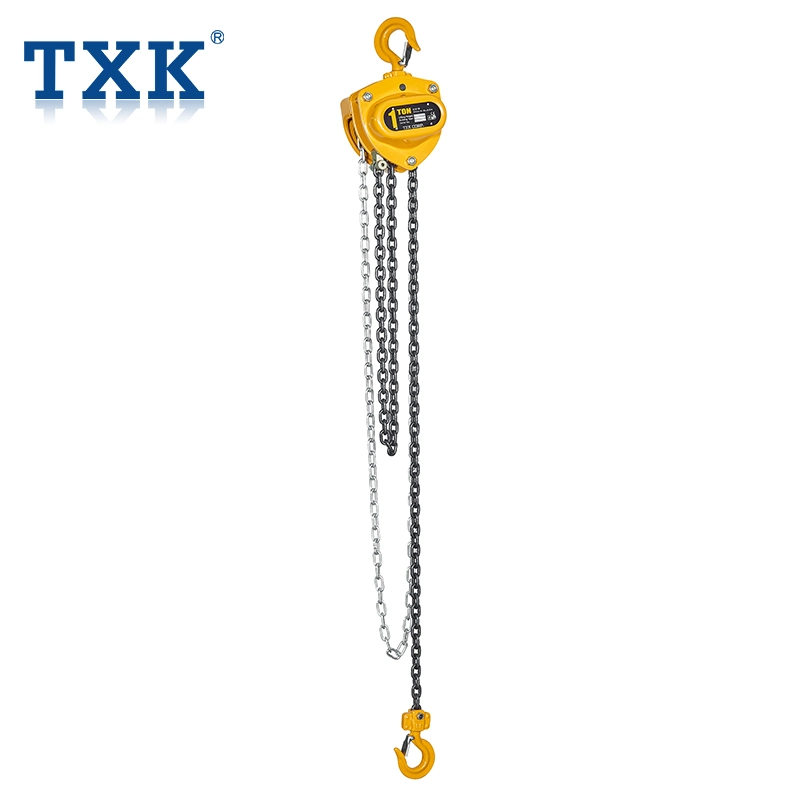 Parameters
Model

CB-B

Capacity(ton)

0.25

0.5

1

1.5

2

3

5

7.5

10

Standard lifting height(m)

2.5

2.5

2.5

2.5

2.5

3

3

3

3

Running Test Load(ton)

0.3125

0.625

1.25

1.875

2.5

3.75

6.25

9.375

12.5

Headroom H(mm)

280

345

376

442

470

548

688

765

765

Effort to required to lift max. load(N)

226

235

245

255

324

363

353

373

380

Load Chain Dia. (mm)

Columns

1

1

1

1

1

1

2

3

4

Dia+Pitch

4× 12

5× 15

6× 18

7× 21

8× 24

10× 28

9× 27

9× 27

9× 27

Dimension(mm)

A

121

148

172

196

210

255

280

433

463

B

114

132

151

173

175

205

189

189

189

C

24

25

30

33

35

40

42

56

56

D

31

31.5

37.5

42.5

45

50

53

85

85

Net Weight(kg)

6.5

9.3

12.2

16.5

19.5

32

41.1

61.6

75.7

Packing Measurements(l× w× h)(mm)

23× 16× 15

30× 17× 18

32× 18× 19

37× 20× 24

37× 20× 24

43× 40× 30

47× 44× 35.5

62× 47× 39.5

53× 51× 46.5

Extra Weight per meter of extra lift(kg)

0.81

1

1.29

1.61

1.92

2.68

4.1

5.86

7.73
Advantages: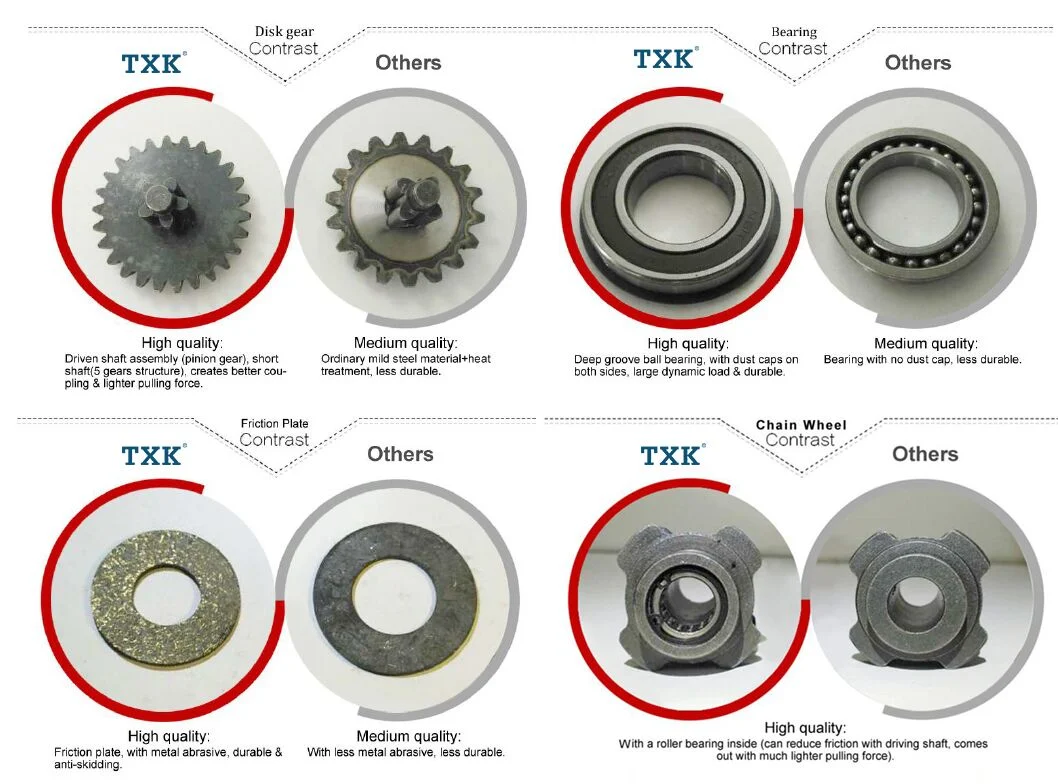 Company Information
TXK
was founded in 1997 with 1.5 million USD registered fund in the very beginning and grow up as a leading manufacturer of electric chain hoist, manual chain hoist, electric wire rope hoist and various lifting and material handling equipment with more than 15 years experience and hard work.Our factory cover an area of 66000 square meters, the biggest workshop in the electric hoist industry in China.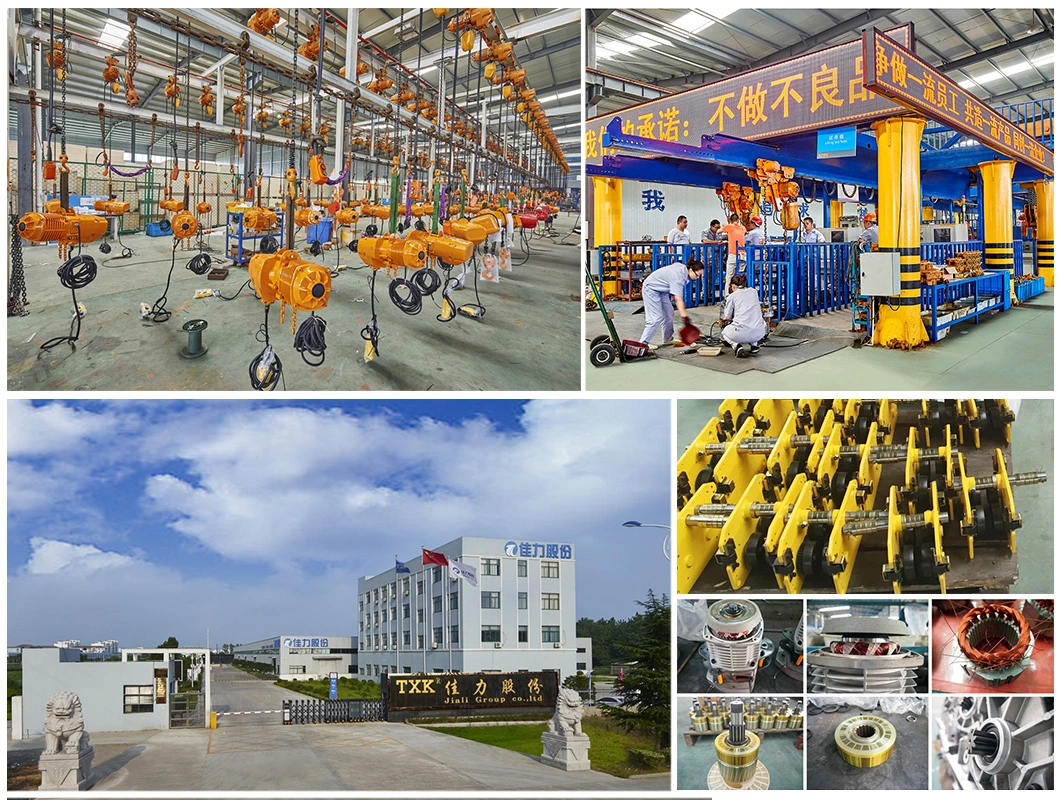 Wholeheartedly R&D:
A solid technical support is an important part of our technical system and the source of progress and development.The company has popular various domestic and foreign product design software and corresponding equipment ,the whole process of product development,design,graphic work and processing technology of production can be completed by a computer.
It could meet the design for low-voltage wiring harness of various shapes,structure and uses,also satisfy the customer through most scientific optimization programme.

Application:
Our products are widely used in industry and manufacturing industry and other special purpose, such as mold, wind power, logistics, railway, shipbuilding, bridge construction, factory assembly line, mechanical maintenance platform etc.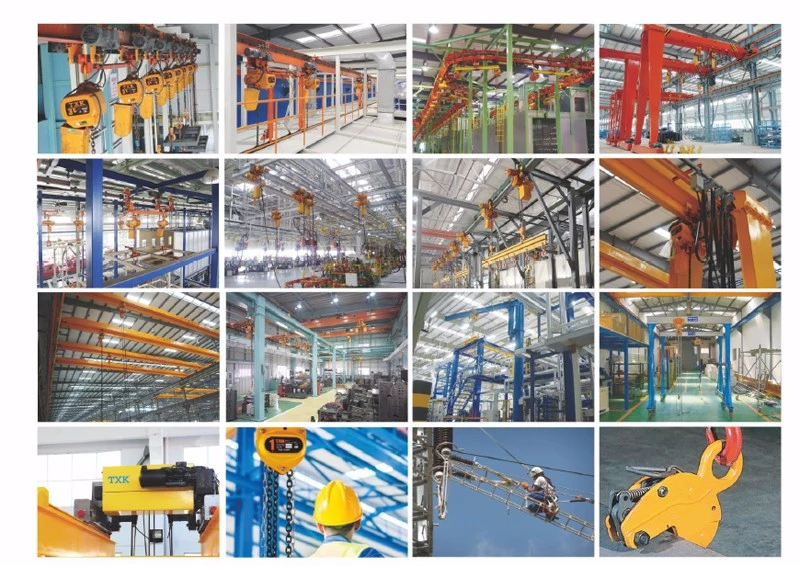 Certifications:
We provide quality, safe and stable products to meet the highest industrial standards.We are ISO9001: 2008 and TUV certified manufacturer, our products are CE, GS, SGS certified, serving all spheres of industry in the world.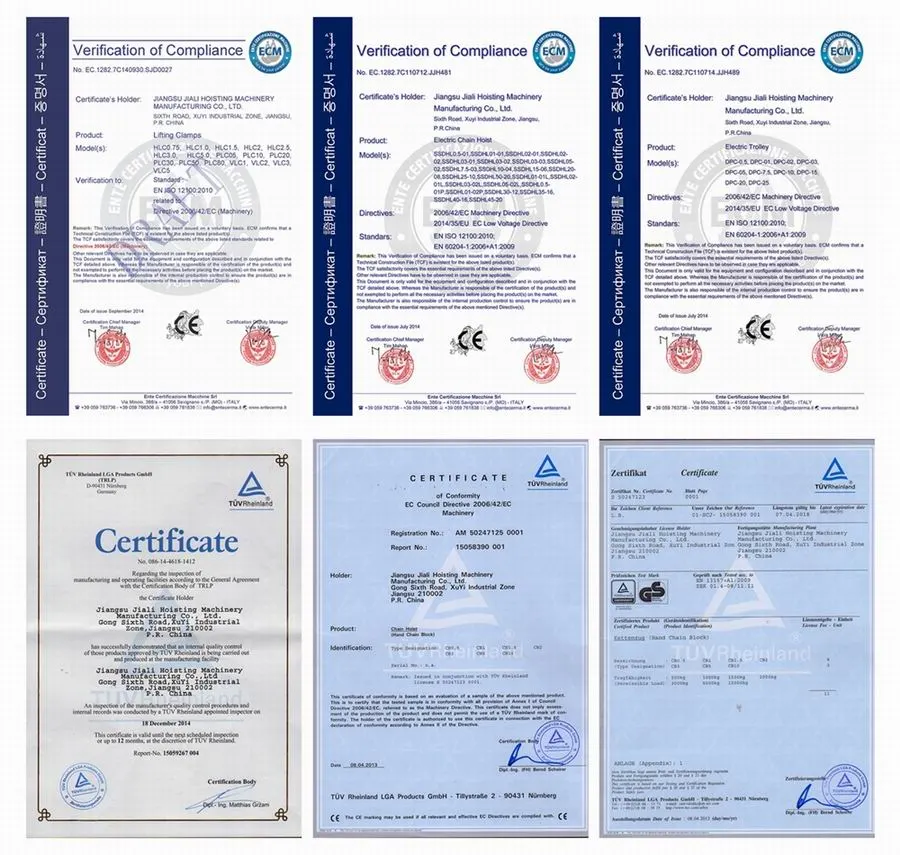 7 reasons to trust TXK:
Longest history and longevity - TXK is one of the oldest established electric chain hoist manufacturers in China,with almost 20 years.

Largest factory and production capability - TXK factory is the biggest factory covering more than 56,000 square meters territory.

Widest products and servuce providing - TXK can provide widest products itema include electric & manual lifting equipments.

Richest experience in world business - TXK has more than 10 years experience on international trade business.

Fastest lead times - TXK factory is equipped with most efficient producing line which handled by skillful workers.

Fullest certifications - TXK factory and products are well certified by CE,GS,TUV,ISO,SGS,etc.

Highest reputation - TXK products are well sold in more than 50 countries.