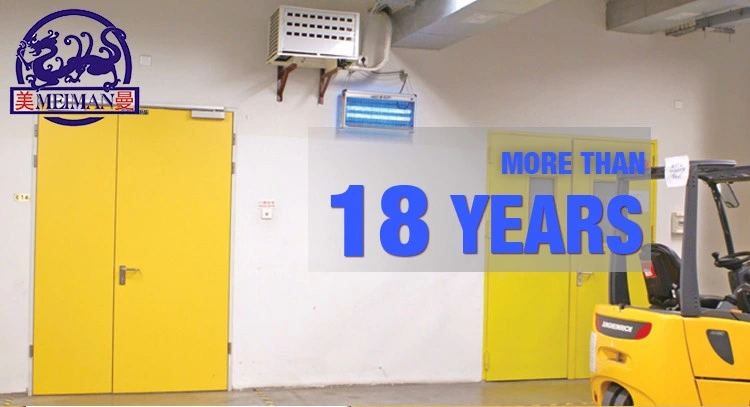 Main Features:
Fire-proof,security,heat preservation,wind resistance,durable.
Application scope:
Exterior & interior door of all kinds of factories and commercial buildings, especially in area with a high demand of fire protection
Technical Data:
Product Standard

Comply with CE standard and 3C

Fire-proof Rating

Class A

≥

90min, Class B

≥

60min, Class C

≥

30min

Service life

Service life:>10 years

Surface Treatment

Electrostatic powder coating, the color is optional

Door Fan

a.Material:Galvanized steel or stainless steel

b.The thickness of door fan is 50mm

c.The thickness of steel plate is 1.0mm

d.Internal filling:Perlite fireproof board / Magnesium Oxide board

Door Frame

a.Material:Galvanized steel or stainless steel

b.The thickness of door frame is 120mm / 140mm

c.the thickness of steel plate is 1.5mm

Hardware

a. stainless steel bearing butterfly hinge to ensure rotating flexible rotation

b. Stainless steel fire-proof handle lock of Shanghai Xiandao as standard, customer can also specify the brand

c.Fire-proof Window,door closer,escape push bar lock,step threshold,blinds is optional

Sealing

All-round fire and smoke prevention expansion seal

Reinforced Plate

a.Hinge, door closer and other hardware locations are equipped with reinforced plate

b.The thickness of reinforced plate is 3-5mm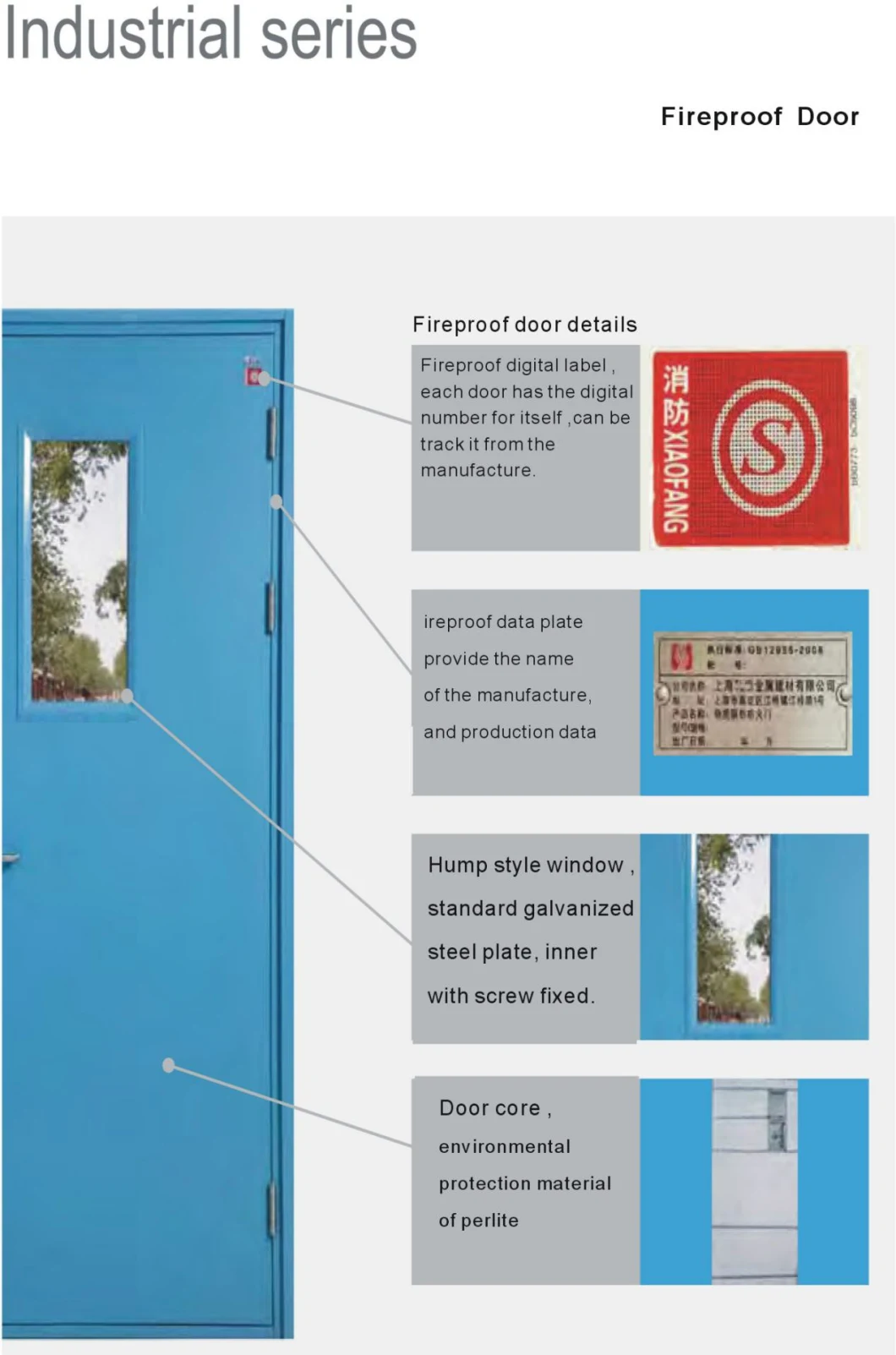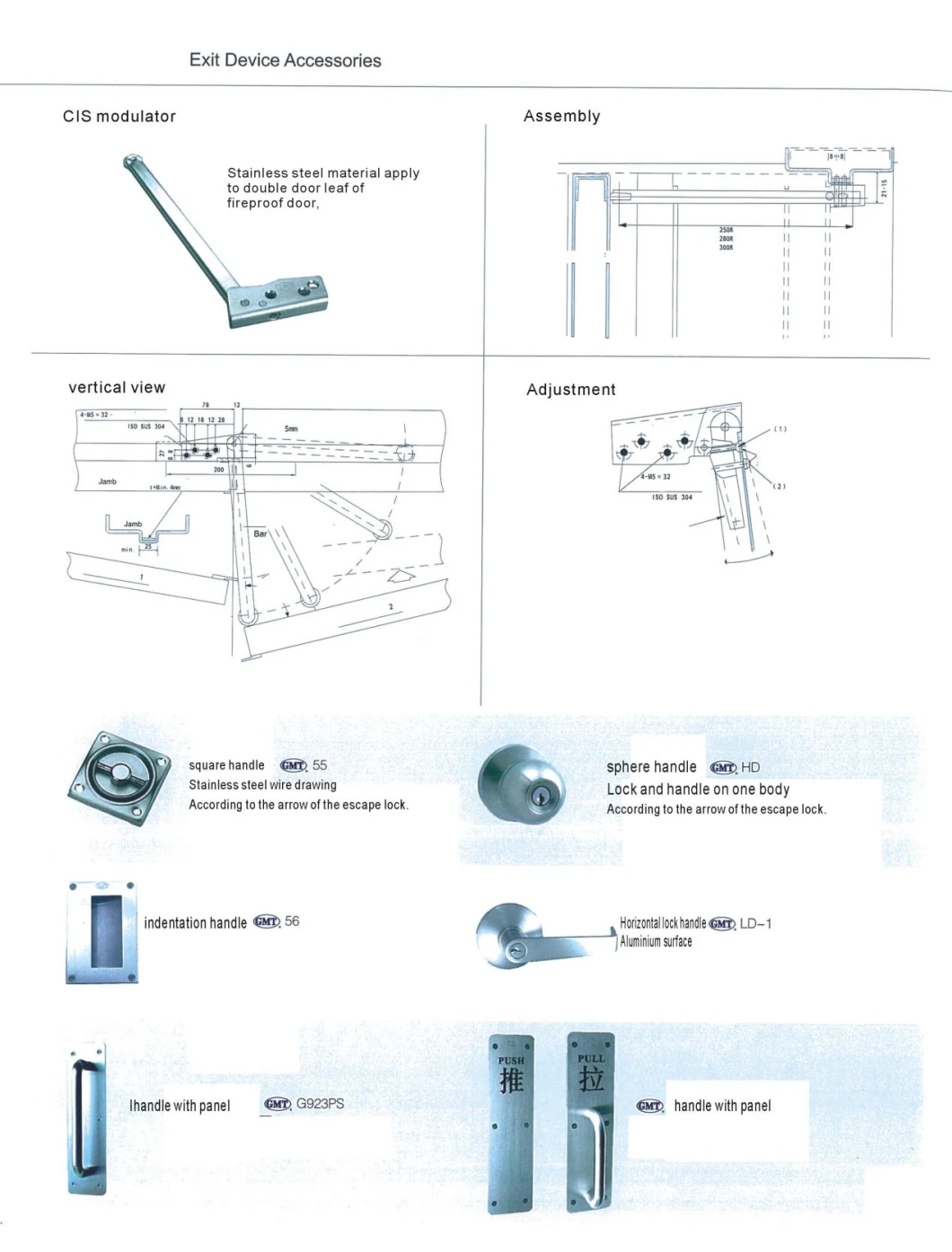 Remarks:
1. Established in 1997, we have gained much experience in door solution for various industries.
2. Honors and Certifications:
A. The member of Standard Committee of China Automatic Door and Garage Door
B. The member of Committee of China Steel Structure
C. China AAA enterprise
D. ISO9001: 2000 Management certification.
E. CE Certification