Installation and Operation Manual
FW6000 Fire Alarm Control Panel
1.1 Powerful Function and High Reliability
This FACP uses two-wire bus system to control up to 240 addressable devices. Wall mount design makes it easy to use and operate. It is compatible with the complete range of the FW 3 series fire alarm devices like intelligent detectors, manual call point, input module, I/O module, etc.
FW6000 Intelligent Fire Alarm Control Panel (FACP) is the new-generation fire alarm control unit designed by our company for applications in small and medium projects. It is wall-mounted type and has the advantages of powerful function, high reliability and flexible configuration. The panel is equipped with a LCD monitor to display all the information on fire alarms, faults and various operations, which can be printed out by the built-in printer. FW6000 is a one-loop control panel with maximum 240 points, which can work together with all FW 3 series field devices.
Note: COM port needs grounding
1,(Monitoring Start Output)HJ: Active NO terminal to Fire alarm routing device (use jumper to switch
between passive and active), which will close to connect +24V output after started (each points with a
max output current of 100mA)
2,(Monitoring Start Output)SG: Active NO terminal to Sounder Strobe (Both active and passive modes,
use jumper to switch between passive and active), which will close to connect +24V output after
started (with max output current of 100mA for each direct-start point)
3,BUS: Non-polarity two-wire bus terminal
4,Linkage power supply output: 24VDC(Max output current 1A)
5,Main board power supply input: 220VAC
6,Grounding Terminal: Grounding
1 Main Board
Main board is fixed on the inside upper part of the door and it includes LCD screen, indicators, operation keys, printer and driver board communication interface etc.
Main board is the control center of the FACP. The hardware circuitry is composed with the SCM STM32F103 as a core and extended with some memory chips, keypad, indicators and LCD, etc. This SCM directly control the output keys through its asynchronous serial COM interface and loop diver board to realize the data communication (sending out the action order and receive feedback data ), data analysis, status adjustment as well as sending and record of all sorts of alarm info (audible/visible info, LCD display, print-out record and history log). It can also receive the keyboard operational info to enter all kinds of relevant menu operation interfaces so that to check or set up the FACP
control features and status info, and it can receive power supply's working status info as well.
2 Printer Board
It consists of SCM STM32F101, memory chip and indicators, which compose the hardware circuitry to receive the printable data and commands from the main board, and to process and print out the data received.
3 Loop driver board
Loop driver board is used to connect the power supply with main board by SCM STM32F101 and the peripheral circuitry.
The loop part of the driver board consists of SCM STM32F101, memory chip, bus power driver circuit (MOSFET 9024 and 024), feedback code receiving & verification circuit (LM339) etc. Its software is to receive the commands from the main board, then, after the format conversion, forward the commands to the loop connecting to the field devices; it also receive the feedback info from the loop devices and send the info back to the main board.
4 Power Supply
This power supply circuit board transforms 220VAC power to 24VDC for power supply to main board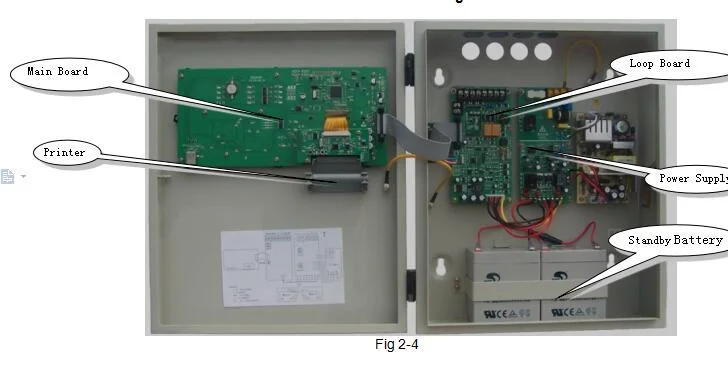 2.4 Technical Specifications
2.4.1 Power Supply:
AC power: Nominal operation voltage 220VAC (187VAC ~ 242VAC)
Standby Battery: 2 x 12V/12AH
2.4.2 Operating Environment:
Temperature: 0
ºC
~+40
ºC
Relative Humidity: ≤95%, non-condensing
2.4.3 Capacity: One loop with maximum 240 devices
2.4.4 Display: LCD 128×64 lattice graphic
2.4.5 Dimension: (Length ×Width ×Height):330.0mm×130.0mm×400.0mm
2.4.6 Wiring requirement
1,Recommend to use RVS2×1.0MM2 or RVS2×1.5MM twisted wire for CAN communication wire and bus
wire, while use RVSP2×1.0mm2 at the high interference environment.
2,Not allowed to lay CAN communication wire and telephone line together with bus wire inside the same
multi-core cable.