10 Tons 20 Tons Eco-friendly Air Cooled Industrial Water Refrigerator Chiller

As a professional water chiller manufactuer in China, we can supply kinds of chiller solution according to your different working need, OEM is accept, if this series is not workable for you, please feel free send news to us.
1. MGREENBELT Chiller General Introduction
Cooling capacity: 2 Ton~50 Ton, 8Kw~175kw
Outlet temperature: -5 C ~ +35C, can be adjusted on the chiller control panel
Electric power supply available: 3PH-208V/220V/380V/415V/460V-50Hz/60Hz
Temperature stability ±0.5 ºC to ±2 ºC
Built-in SS water tank and water pump
Shell&tube or SS PHE for optional
Easy installation and energy saving
All models and cooling capacity are available.
Technical Parameter:
Model

MG-15CL

MG-20CL

MG-25CL

MG-40CL

MG-50CL

Cooling capacity

0

ºC

kw

33.4

44.2

50.5

87.7

110.6

-5

ºC

kw

28.4

37.6

43

74.5

94

Power

kw

15.84

20.51

23.52

40.18

47.92

Power Supply

3PH-380V-50HZ

Type

R22/R407C

Refrigerant

Control

Thermostatic expansion valve




Compressor

Type

Hermetic scroll type

Power

kw

4.4*3

8.7*2

10.2*2

8.7*4

10.2*4




Evaporator

Type

SS Tank with coil or Heat exchanger plate

m³/h
Flow
0

ºC

6.33

8.37

9.57

16.62

20.96

-5

ºC

5.84

7.73

8.85

15.33

19.34

Capacity

L

270

350

350

580

580

Pipe diameter

DN40

DN40

DN40

DN65

DN80




Condenser

Type

High efficiency hydrophilic aluminum foll finned type

Power

kw

0.55*2

0.78*2

0.78*2

0.78*4

0.78*4




pump

Type

Power

kw

1.5

1.5

1.5

2.2

2.2

lift

m

20

20

20

20

19

Protection System

Compressor overheat protection, high/low pressure protection,phase missing/sequence protection, flow rate protection, anti-frozen protection.




Dimension

L

mm

1800

2100

2100

2000

2000

W

mm

1000

1000

1000

2000

2000

H

mm

1600

1700

1700

1750

1750

Wight

kg

750

850

900

1350

1600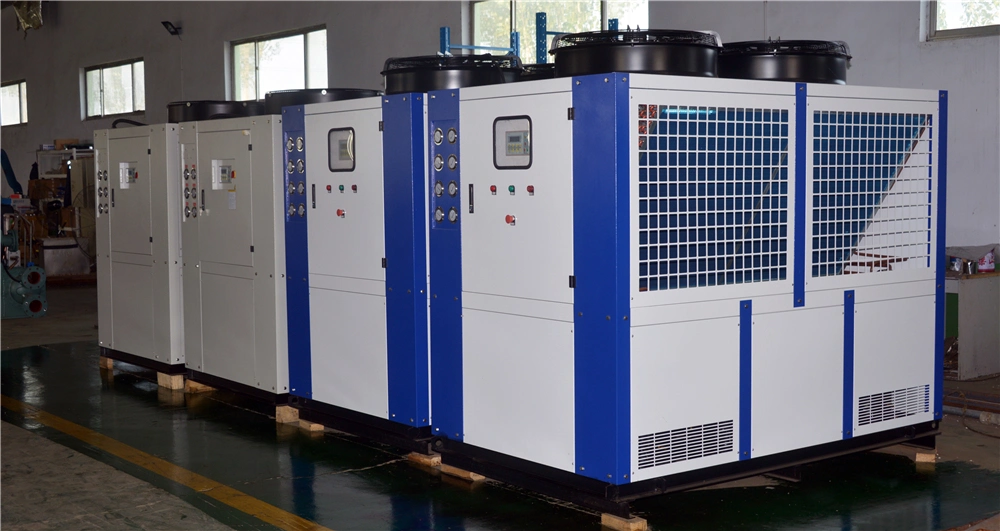 2.MGREENBELT Chiller Description
1). Brand and durable Scroll type compressor: Copeland, Danfoss, or Panasonic.
2).Three type evaporator support different working circuit.
A.Tank with coil, easy clearance
B. Shell and tube, high efficient
C. Brazed plate heat exchanger type( BPHE)
3). High efficient V type condenser: Screw copper tube covered aluminum fins
4). Expansion valve: Emerson
5) .Iron and stainless steel pump for different option
6). Buffer tank installed inside chiller optional
7). Inbuilt iron or stainless steel circulation water pump
8). Muti- protection devices: -Compressor inner protection,Over current protection,High/low pressure protection,Over temperature protection ,Flow switch,Phase sequence/phase missing protection,Low coolant level protection,Anti freezing protection ,Exhaust overheat protection.
To ensure high quality and good experience to customers, we use the world famous brand of key parts and good material to produce our machines. Pls find the below detailed photoes for further information.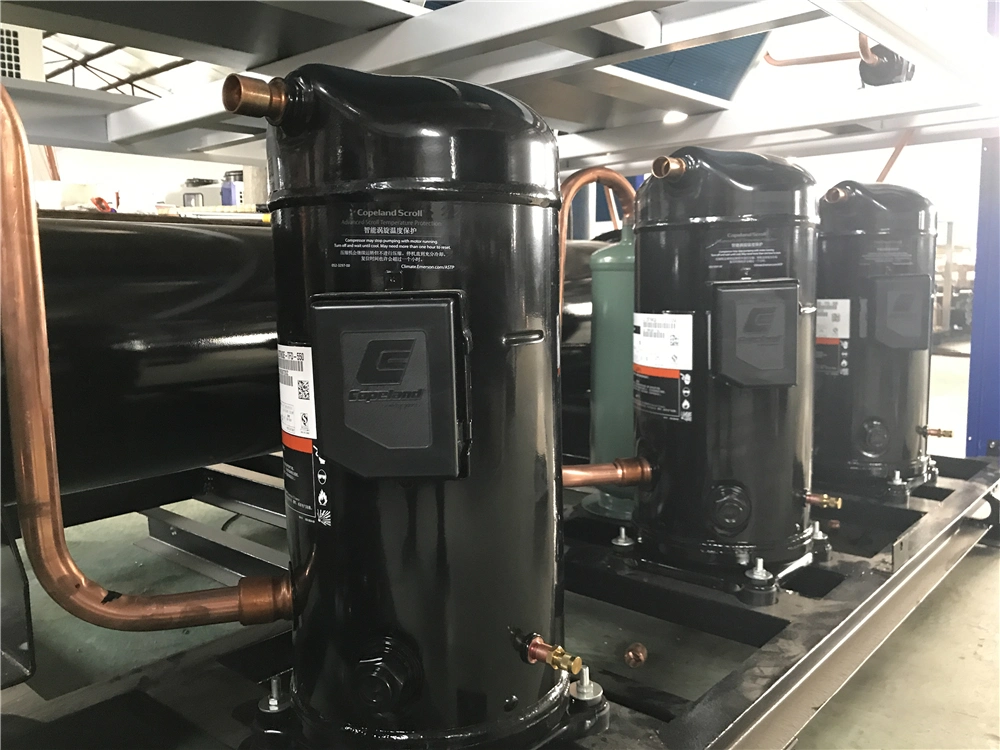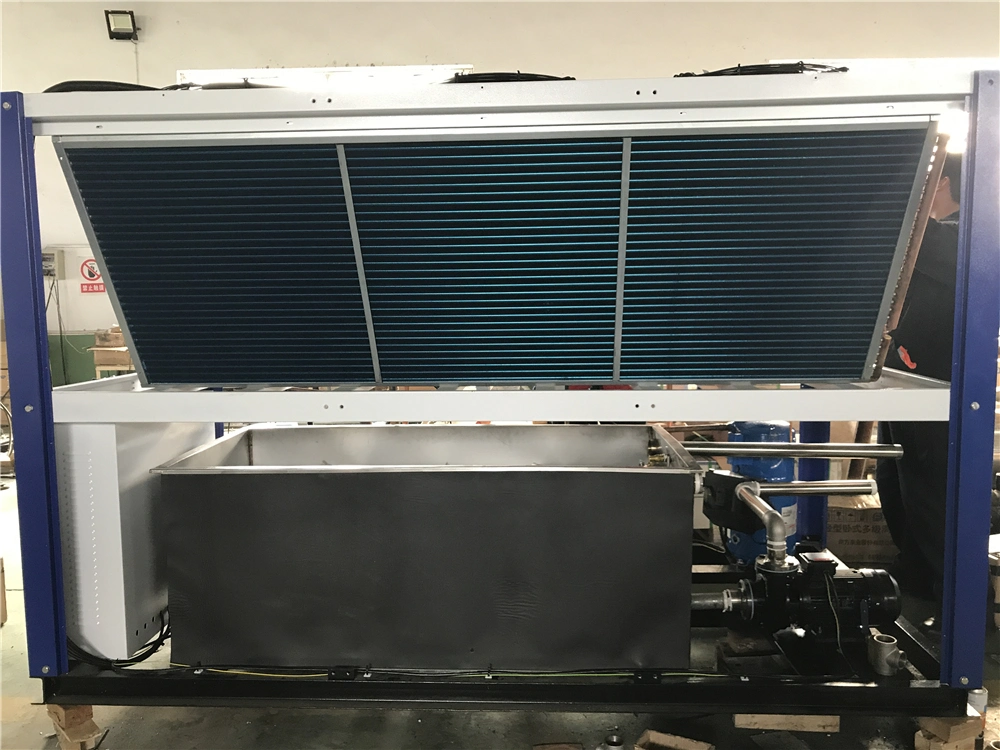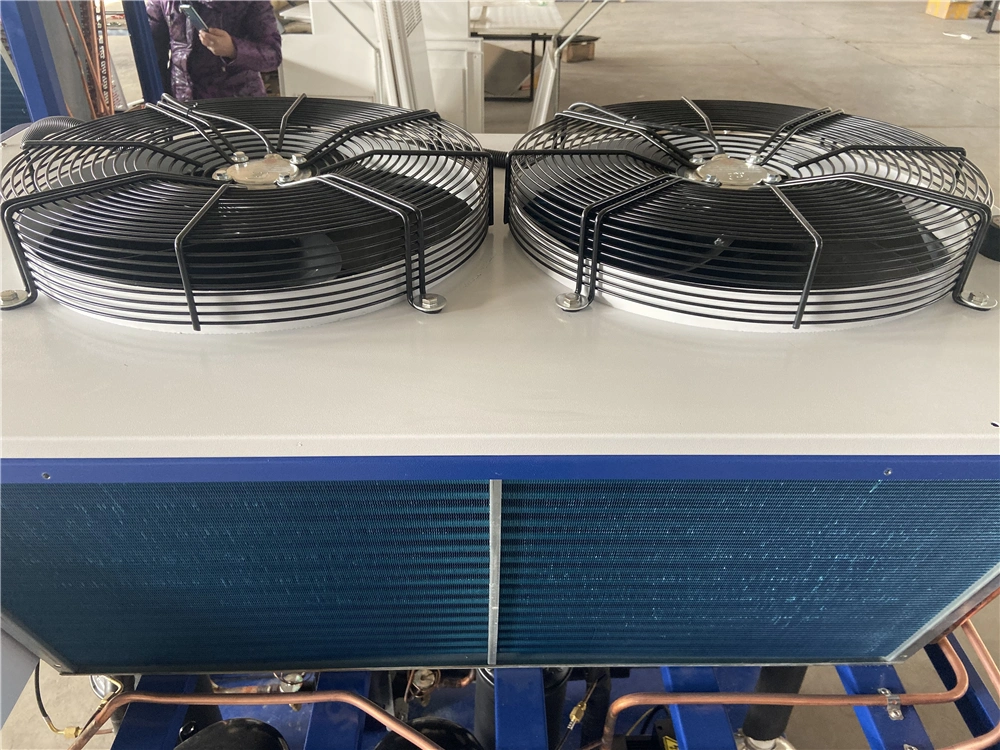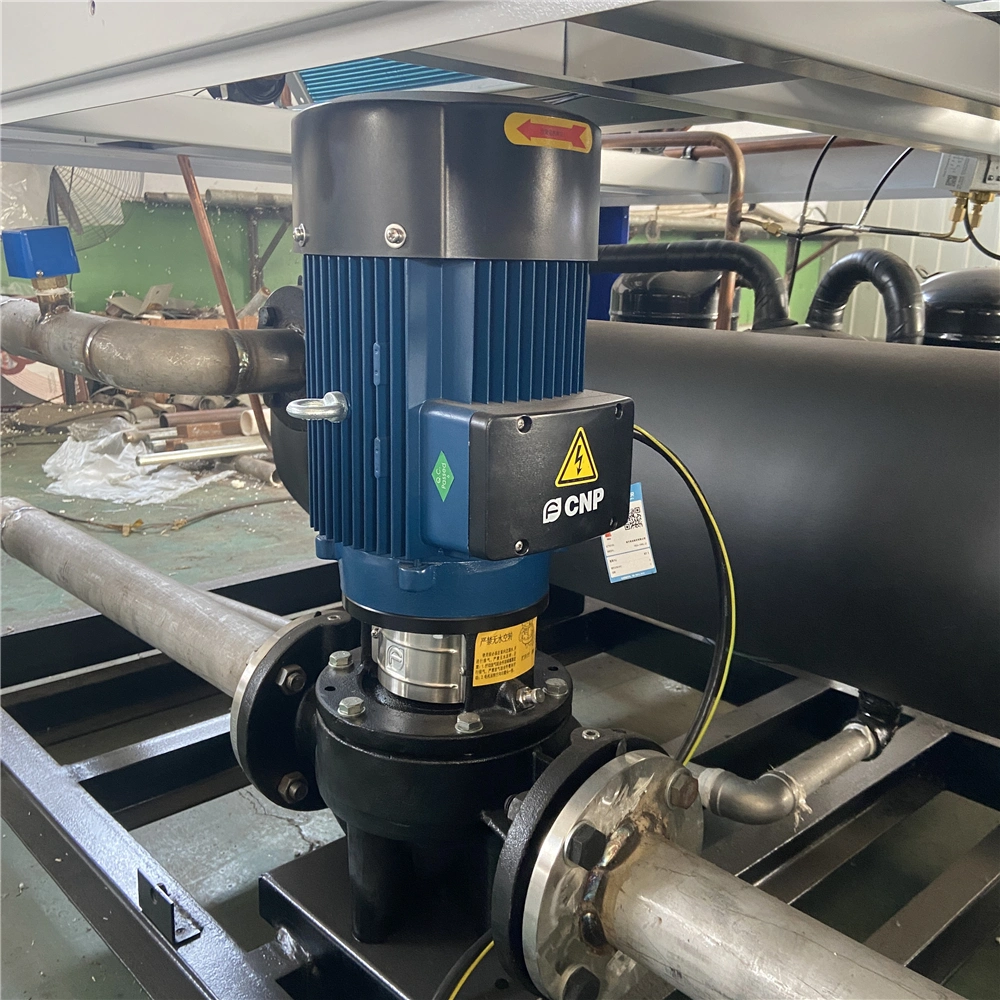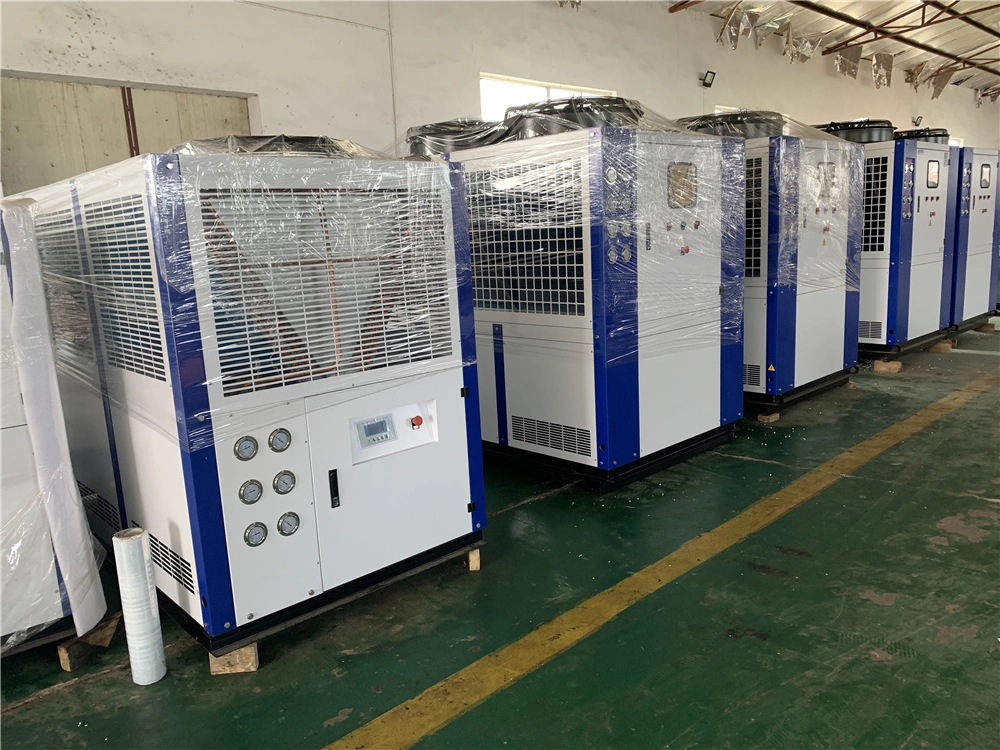 3. Air Cooled Water Chiller Application
MGreenbelt air cooled screw chiller widely used in plastic injection, extrusion, plating, mold, hydraulic, chemical, leather, printing, profiles of oxidation, reaction kettle, chemical fiber, vacuum coating, paper making, textile, central air conditioning refrigeration and various aspects of water centralized water supply, especially suitable for the inconvenience for water and the water pipe ground.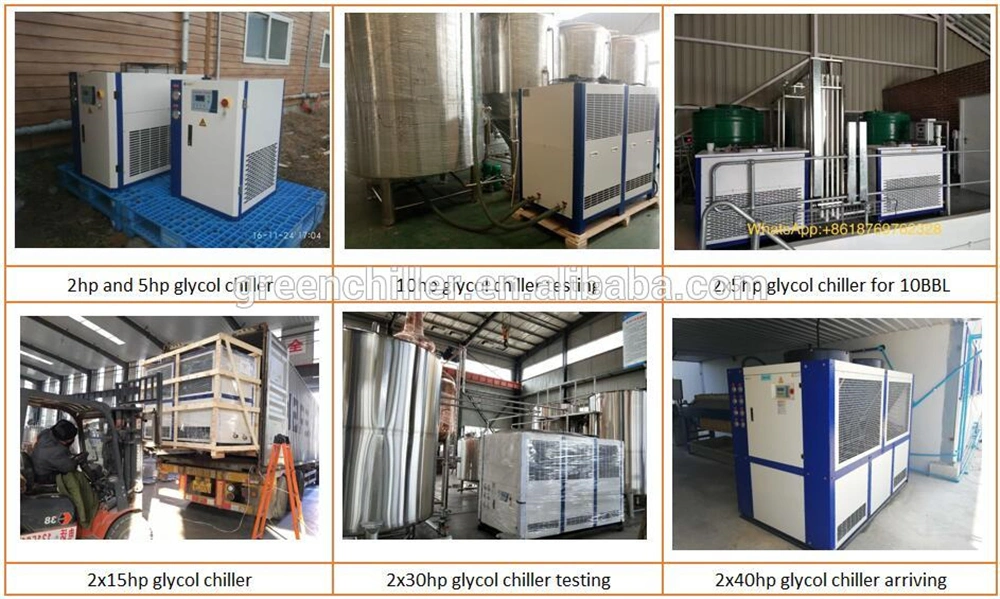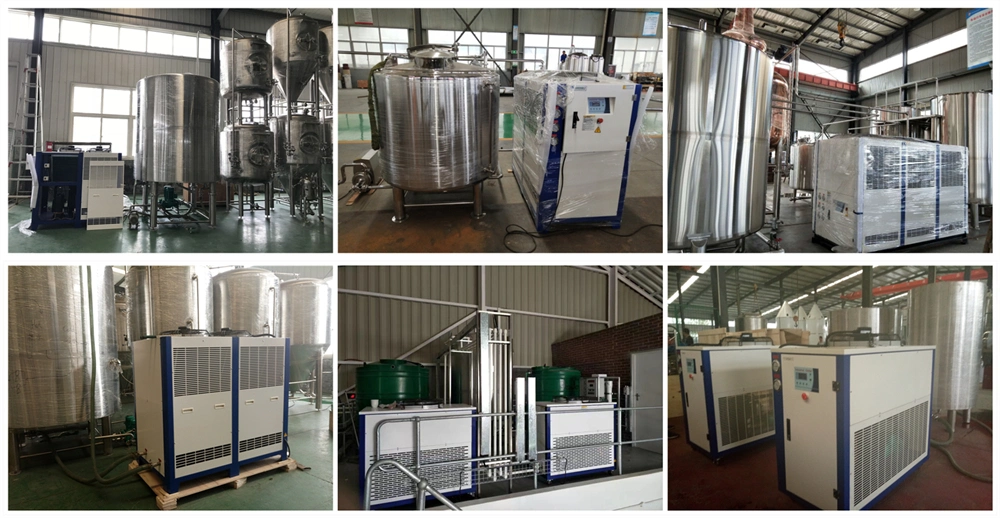 4. Mgreenbelt Water Chiller Design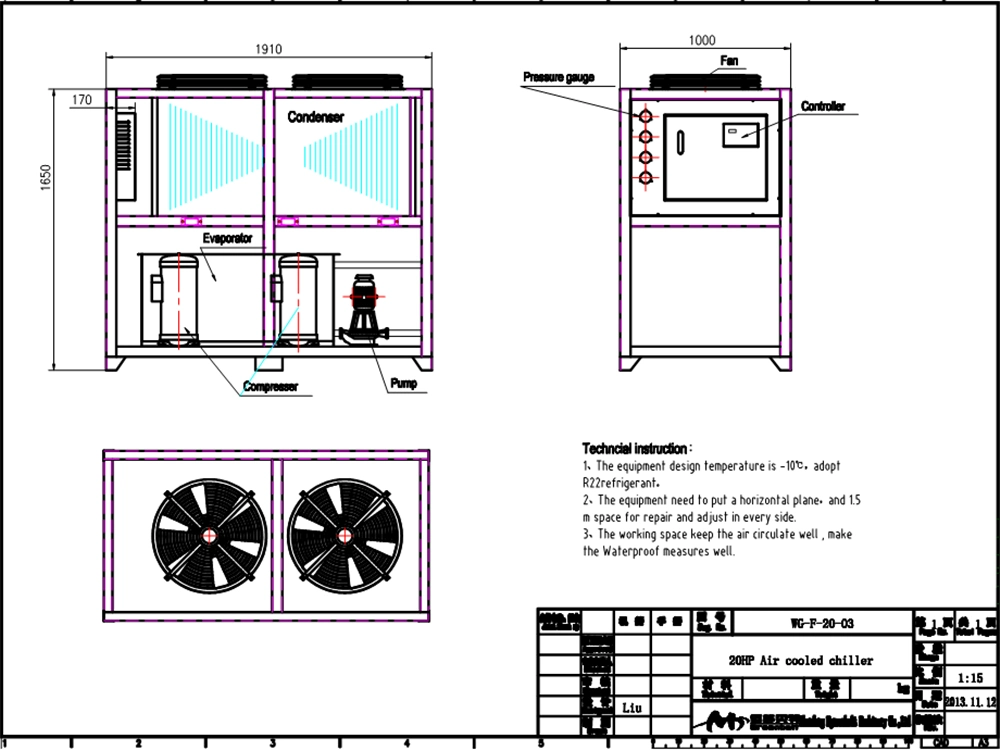 5. FAQ
Q 1. How about the quality of your product?
· Our products manufactured strictly according to national and international standard.
· We have CE, ISO certification.
· We take a test on every product before delivery.
Q 2. How about the price of this product?
· We can give the lowest price than market one.
· We do quotation as soon as possible for any customer.
· Discount can be given according to quantity.
Q 3. What is the MOQ?
· 1 Set
Q 4. If you can be customized?
· We can make products according to customer's requirements.
Q 5. What is the voltage?
· 380V 50hz 3 phase or any other voltage according to client's requirement.
Q 6. What's the warrenty?
1 year warrenty for free if confirmed by both side damage in the quality reason.
Q 7. Are you a manufacturer?
Yes, we have more than 18 years in water chiller business. Also have patent on the water chiller appearence. The control box design make the unit safety and stably.
Q8. How can I place an order?
1. Please send inquiry to us ! Click " Contact Now"
2. Contact us by call, please find our information at " Contact Us"
6. About us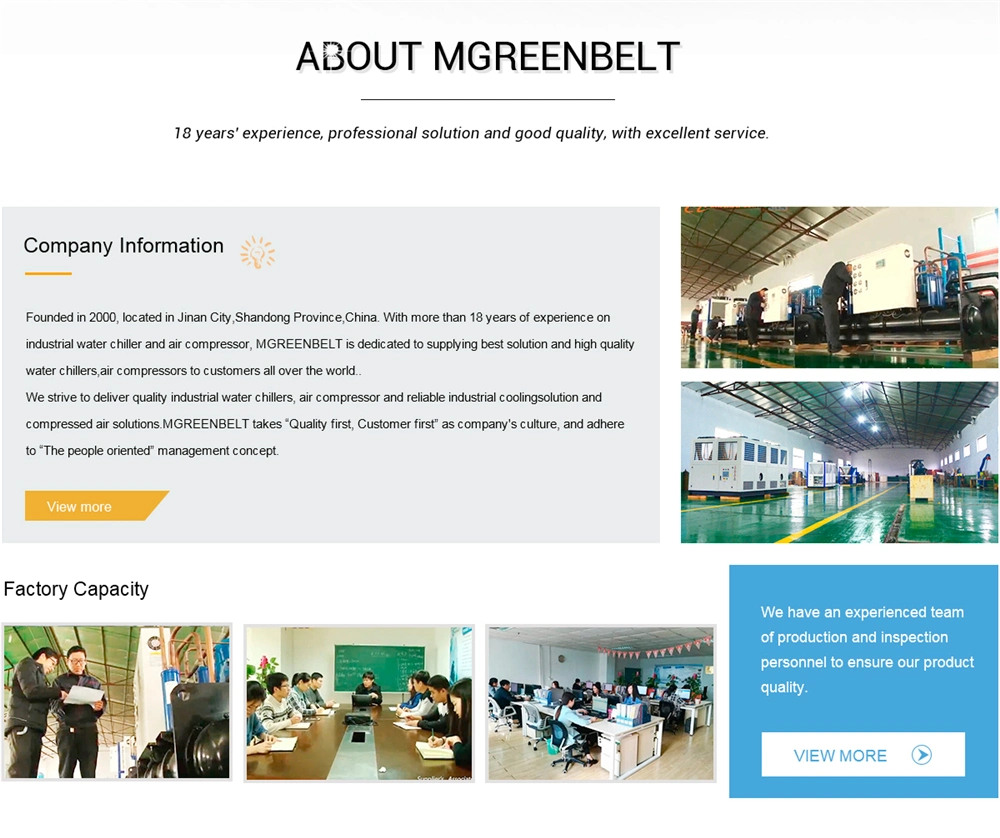 Different water chiller series can be provided for your choose, if this model is not workable for you, please send the message to us, we will make the workable solution for you.


Find the follows information contact us:
MGREENBELT Contact person: Grace Zhang